Palm removal and tidying, coconut de-seeding and de-nutting
The average, mature coconut palm fruits twice a year. Imagine the damage created by one of these 600g beauties falling straight through your roof or landing on the head of a loved one. Any coconuts the size of a tennis ball or smaller should be de-nutted twice a year.
Palm trees are one of the most iconic sights in Tropical Far North Queensland, however to co-exist, you need to provide them with regular maintenance by de-nutting them twice a year. De-nutting is relatively simple but can be dangerous if not done correctly by somebody with experience. The process involves maintaining the palms, removing the seed pods and flowers, frond removal, and then all the remaining decaying branches, encouraging fresh growth while ensuring the complete safety of humans, pets, and infrastructure.

Our qualified team at Tree Arrangements has considerable experience with coconut palms over 10m high, perfecting time-saving techniques to get the job done on time and on budget, every time. We also use the best possible tools for the job and the entire team is highly skilled using Silky Handsaws and Pole Saws to ensure the job is completed at the highest of standards.
When the job is finished, you have the option of keeping the mulch at no extra cost, or we can take it with us for free, ensuring that you are left with a de-nutted palm tree and zero clean-up. Win-win! 
The team at Tree Arrangements also provides palm fronds to traditional Indigenous ceremonies across the Cairns and Far North community. We are proud to be able to assist and be a part of this sacred process.
* Tree health assessment and health plan available upon request. *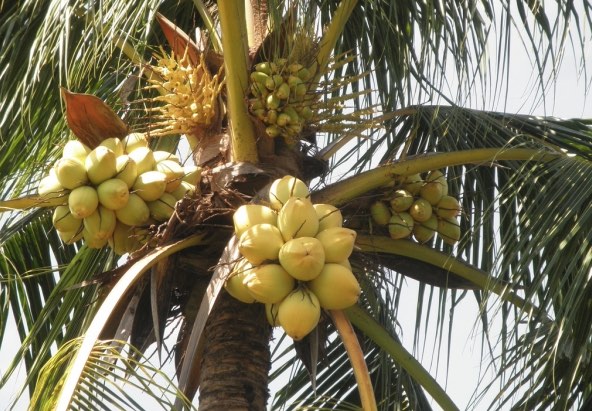 Emergency Response 24/7/365
In Tropical North Queensland, unpredictable cyclonic storms and high wind gusts can create serious structural issues for your property. Luckily, the team at Tree Arrangements is on standby 24/7/365 to provide emergency responses for any unexpected situations that you may find yourself in. When you call the emergency services line at any time of the day or night, you will speak directly with a manager who will have a team on route immediately. The safety of your property and your family is no joke.

The best way to deal with the cyclone season in Far North Queensland is to be prepared. We highly recommend a property visit in the months before the wet, cyclone season kicks in (November to March) to assess your trees and pinpoint any areas of concern. This process is free, and you will be provided with a quote should you choose to address these issues. The last thing you want is your Christmas celebrations to be impacted by something you could have prevented months prior. 
Call Alan or Talitha to discuss your emergency response requirements and formulate a plan that suits your needs on 0408 581 873.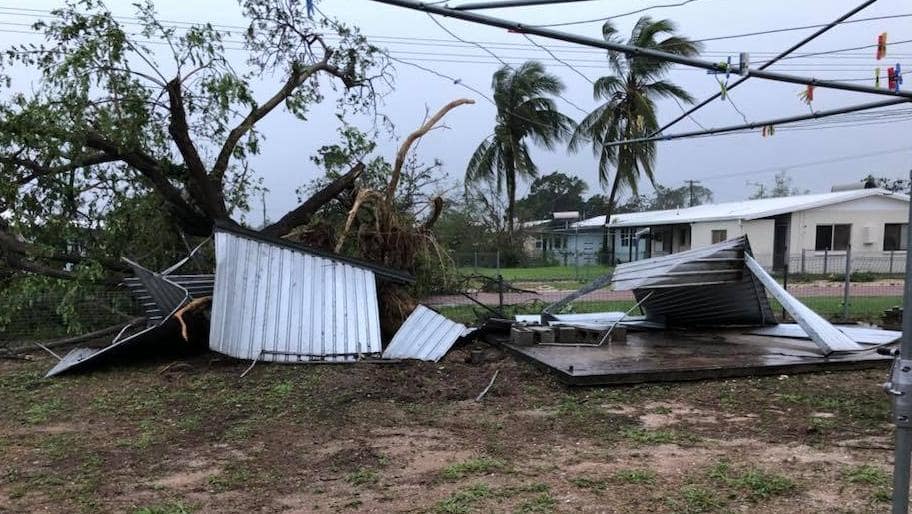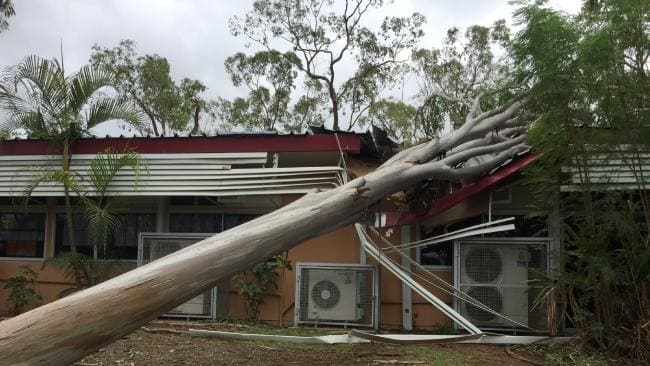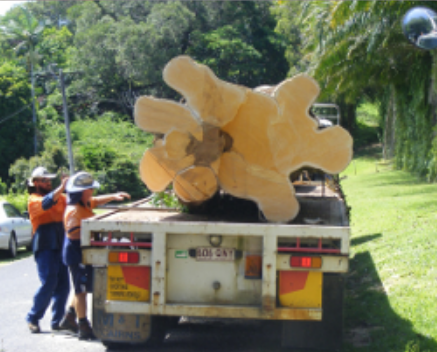 Tree Shaping, Pruning, Transplanting and Removal
Trees. We love them. It's as simple as that. As a staple of our business, we have invested countless years into developing our knowledge of tree health, tree disease and pest management and tree maintenance in Far North Queensland. From the Daintree to your backyard, we understand that each property has different needs and we will assist you in making the decision to retain, renovate, transplant, or (as a last resort) completely remove the tree/s in question. 
As environmentalists, our priority is always to save the tree when possible, however, this is not always an option. When the decision is made to remove or replant the tree, we are able to assist you in carrying out the full process from start to finish. 
There are a few ways in which we are able to prune, depending on the state of the tree and the desired outcome. These include:
Crown lifting– This is the process of raising the tree canopy by removing the lowest branches.
Crown thinning- This is the process of reducing the overall density of a tree canopy by selectively removing the secondary or mid branches throughout the interior of the crown.
Crown reduction– This is the process of reducing the height, spread, weight and overall volume of the tree canopy, usually by pruning and shortening the branches.
Formative pruning– This is the process of removing or reducing branches as required to provide a physical clearance between the tree canopy and a certain target, such as buildings or powerlines.
*All methods include the removal of deadwood and are conducted within the strict Australian safety standard guidelines.
Stump Grinding and Removal
 Pesky, unsightly stumps can pose a dangerous trip hazard and become an eyesore in your beautiful backyard. The team at Tree Arrangements knows that the best way to stop a stump reshooting and causing more problems is to grind it down below the natural ground level. We operate top-of-the-line, stump grinding machinery of all sizes to help complete the task without cracking your paths or driveway. On every tree stump grinding or removal job, we erect portable screens for protection from flying debris which have the potential to cause serious structural damage (not to mention upsetting the neighbours!) We pride ourselves on being as unobtrusive as possible. 
Some clients will require that the tree stump be completely removed, and for this we utilise our heavy-duty excavators. For peace of mind, we dial before we dig, making sure not to interrupt telephone lines, water supply, or sewage deposits during the process. Over the years, we have streamlined the whole process to make the stump grinding procedure as stress-free as possible. 
Legerwood Memorial Carvings
An avenue of carvings, situated in parkland in Legerwood's Main Street, invites contemplation of the poignant stories of local soldiers, whose likenesses form a lasting tribute…..  read more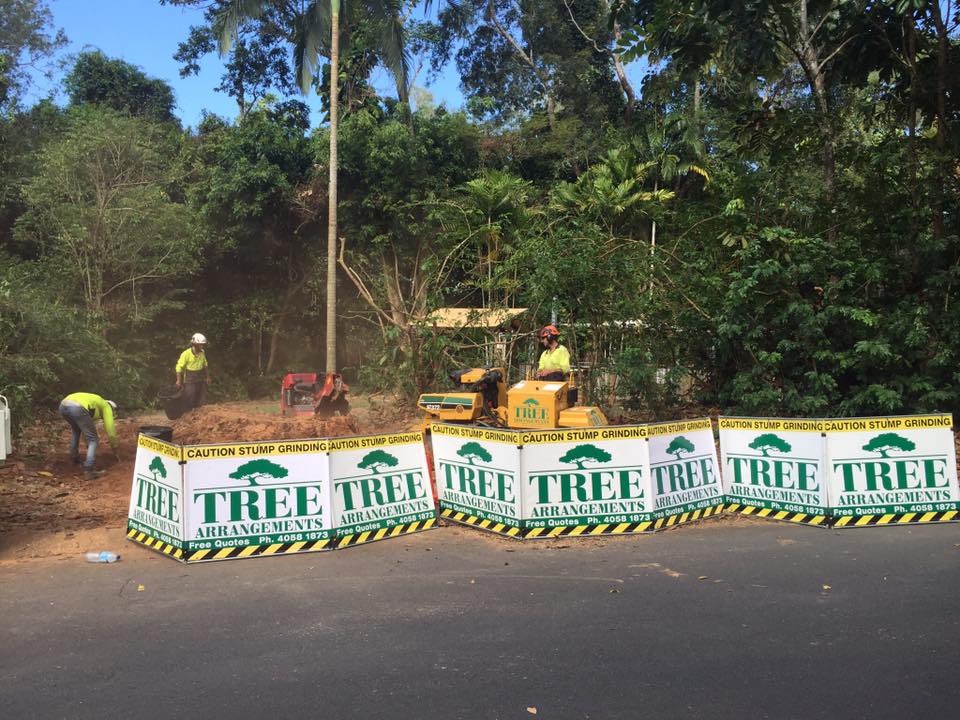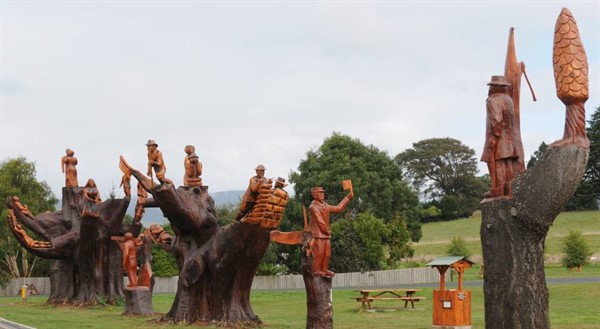 Not All Stumps Need to be Removed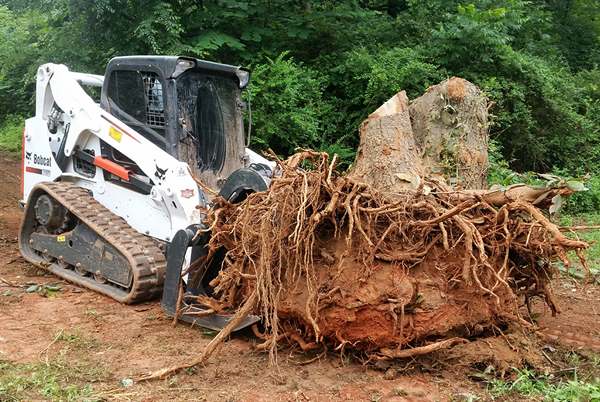 Skidsteer Taking the Stump to the Truck
Land Clearing
NQtrees, a division of Tree Arrangements P/L has all the equipment and expertise to undertake land clearing for subdivisions, large and small acreage right through to residential blocks.
All of our equipment is first class, insured and our operators are skilled experts with all equipment used on sites.
For fast, efficient land clearing and reliable communication contact Alan on his Mobile:  0408 581 873